Moderator: skezza
Hey guys check this one out.It's got a 1 piece swamp ash body and a 21 fret maple neck with rosewood fretboard,bullet truss rod,skunk stripe on back and a 3-bolt Fender neck plate.Pickups are a Duncan Custom in the bridge and 2 Dimarzio SDS-1's in the middle and neck.The hardtail bridge is a NOS Charvel brass bridge that's been black chromed on the baseplate and chromed on the saddles.Tuners are black Gotohs with white pearl knobs.This guitar sounds incredible and is LOUD!!!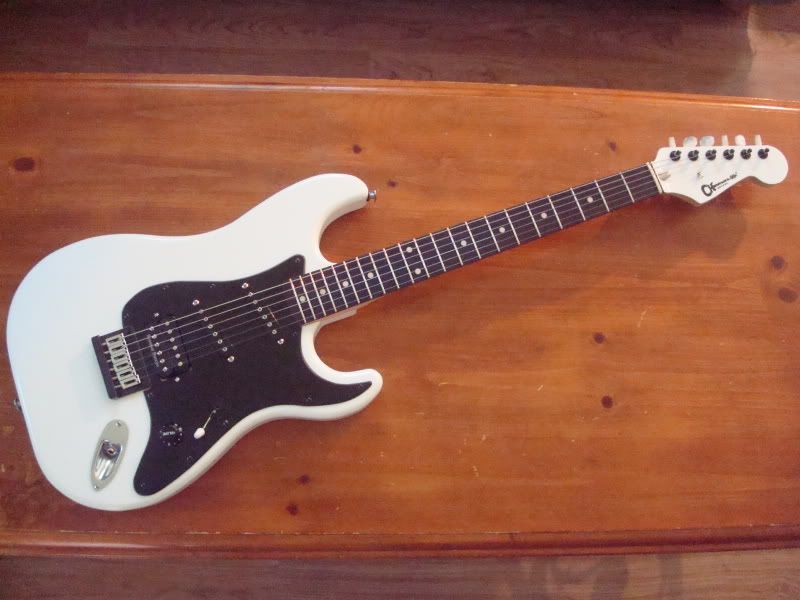 ---
Take real good care of it - looks truelly a Classic beauty instrument, you have there. Peace!
---
just a quick question ... why did you decide
on the Custom instead of the JB ?
"Spend less time chasing tones and more time just playing music."

-

Marty Friedman
---
MetalHead wrote:just a quick question ... why did you decide

on the Custom instead of the JB ?
I didn't,the builder used that pickup and I have to say it sounds awesome.I guess he must have built this with tone in mind and not just the look.
---
*** UPDATE ****
I just put a Motor City Pickups Afwayu in the bridge and it sounds absolutely killer.This guitar flat out kills.
---
Posts: 20
Joined: Mon Jan 11, 2010 9:35 pm
Location: Hong Kong
how did you happen to have a Charvel logo on the headstock?
---
would like some details on the neck, particularly the bullet truss rod solution and headstock. was this headstock re-shaped?

how did you match the bridge and the hardtail body? people seem to run into trouble there.

also cant tell if the heel is rounded like an old school strat, or flat shelf like the newer necks.
---
All Access Member
Posts: 428
Joined: Thu May 24, 2007 10:08 am
Location: Michigan
I have two different Motor City pups and love them. The one is a Detroiter and I cant remember the other. I will have to look and see.
---
Return to All things Jake E Lee...
Who is online
Users browsing this forum: Google [Bot] and 7 guests