Moderator: skezza
All Access Member
Posts: 494
Joined: Sat Dec 31, 2005 5:00 pm
Location: UK
As you may Know I bought an Extremely Cheap £20 Kramer 1985 Rhoads Type V guitar this week and after Giving a Make over..(cleaning Floyd Rose..Changing Tuners..Jack etc!!!)..I find it Impossible to Play..not just sitting either...No where rest ones arm..the feel against the body..Etc..
Does anyone have a V?
Does Anyone know what Pickups Kramer were using at this time?
---
I Have a V....I love it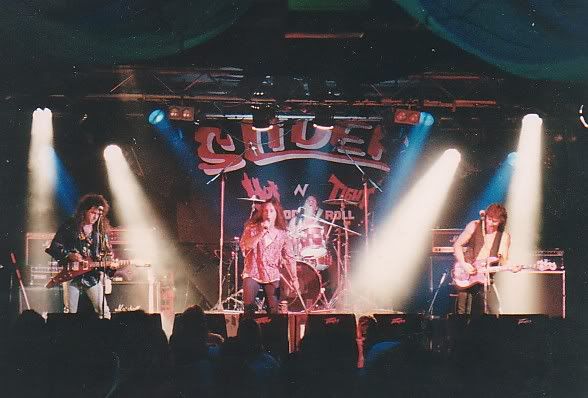 ---
i dont like floydrose on V's... i have a jackson king V and thats a great guitar... guitar that is build for floyd is much better than a guitar that isnt build for floyd...

And pick ups, i reccomend duncan anyway!!! dimarzio is also okey
---
I believe the non-logoed pickups on those were Duncans.The import equivalent to the "Duncan Designed" series of today.
As for the flying v type body,it does take slight adjustment on the player's part,but if you find one you really like,it isn't as difficult as it sounds..
---
Posts: 4
Joined: Mon Apr 03, 2006 5:00 pm
Location: Pinner, England
I have a Jackson Rhoads V and I actually prefer it to other shaped guitars now. I've gotten used to it a lot since i've had it because it's been the only guitar i've played for a few years so i've sort of forgotten how to hold more 'normal' shaped ones. I now rest my arm on the long spike when sitting down and have my right leg between the two. I find it very comfortable, more than most other guitars now, and the neck is raised so I find it easier to access the higher frets.
---
Who is online
Users browsing this forum: No registered users and 4 guests