Moderator: skezza
What's Jade's Myspace name?
---
search an find you shall.
"Spend less time chasing tones and more time just playing music."

-

Marty Friedman
---
I must admit that Strattattack and Fire and Rain re-plies above made me giggle: his baby girl is an mini me musician, she's going to be outrageous, Stratattack when she gets older. FireandRain children have excellent taste as well, I bet that totally blew you away seeing her tiny babies groovin & Rocking to JUDAS PRIEST, that's wild. "As I've mentioned above in my re-plies that our children tend to drift/find their own music likes that are totally different from their parents although they have the ground Root foundation of what their Parents listern to: I'm sure that the Rebel Jade Williams (Jake E. Lee's cherished daughter) listern to all groovin' styles of music & deep down digs the Catagorie of electric music that her Father Trailblazed in Hard Rock/Metal, Funk, Bluegrass and the Blues. I have this down to gritty Earth homage BADLANDS bootleg video of them during one of their long Rehearsals & Rebel toddler Jade is trying her best to get on the stage and she finally does (she's a strong little girl) and for a brief moment she just stands there watching her Dad/Jake E. Lee practice as she slowly walks over standing quite near next to her Father & he knows she's close by (Jake smiles at her) with her tiny hands on her hips as she taps her feet to the gritty Gator grooves of her Father's band Badlands music. Very "warm & tender footage" of Jake & his daughter Jade it's makes me smile. And I "love" the photo(s) of Jade & her Father Jake E. Lee on the myspace.com (greeting Jake E. Lee homepage in the mp3's music download section) and the "finally" got a glimpse of Jade & her daughter (their beautiful!) - Jake E. Lee's most cherished treasures, his daughter Jade & his granddaughter Sharon!" Peace.
---
I am not a father yet, although at my age, should've had at least one kid by now. (in my late 30's). But my sister has 4 boys: 22,21,11, and a 1 yr old. The 22 yr old is a musician like myself. He got into it when he was 14, getting into Orgy, Marilyn Manson, Korn, Limp Bizkit and the like. At first, didn't like the shredding, and opted to buy stompboxes (foot pedals) for his "sound". His approach was original, to be sure, but 5 years ago, he discovered European Metal. Then, he bought a Peavey Triple XXX, an Ibanez 7 string, and now fronts a band where he shows technique in the metal genre. Very impressive stuff, and gives my playing a run. The others are into various rock stuff, except for the baby
...
---
Posts: 758
Joined: Sat Dec 31, 2005 5:00 pm
Location: Boston Mass
yah My oldest Daughter whom I have already Mentioned on this thread is as I said a total Mini me she eats sleeps and dreams guitar @ 13 years old she already plays scales at 145 bpm and faster my son lucas who is 11 is more into sports and my 14 month old is being Influenced by me and her older sister . so we'll see with her but I cant see my oldest leaving guitar anytime soon which is cool with me!
The artist formally known as Brawler
---
Welcome Jade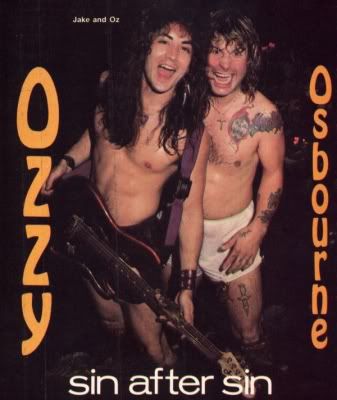 ---
jadessong wrote:let me see i am jade his daughter and i listen to all kinds of music and so did my dad he iked tupac and collio. the life of living as a celeberity is not easy
I find it really interesting that he did listen to other styles of music such as hip hop and rap. Although I don't particuarly enjoy that style myself, it shows that Jake was more of a musician than a guitarist as such. He had a broad range obviously and would go wide and far to hear different styles of music. just a though
---
Return to All things Jake E Lee...
Who is online
Users browsing this forum: No registered users and 6 guests