Moderator: skezza
Sorry if this has been done before (searching 'Jake guitars' didn't work too well in the search from some reason
)
So I had heard that some people around here had original Jake guitars?
pics would be nice
then to broaden it, Jake replica's or Jake tributes?
Last edited by
_will_
on Wed Oct 10, 2007 8:53 am, edited 1 time in total.
---
I will make a
Whitey
when I have time and more money
"Spend less time chasing tones and more time just playing music."

-

Marty Friedman
---
All Access Member
Posts: 6
Joined: Mon Nov 27, 2006 5:00 pm
Location: united kingdom
when i get chance i will post a pic of my esp jake e lee for you
---
---
heres my fender malmsteen strat that I have modded to look like jakes from the "last time" video ( I am still waiting for the pickquard)
before

after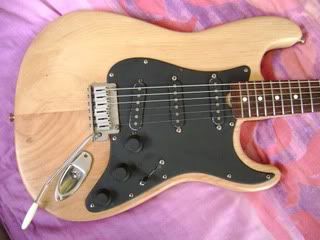 ---
My 1994-era ESP Jake E. Lee model. I have replaced the bridge pickup with a Duncan Distortion.
---
I'm converting my ESP Vintage plus to a Jake style guitar. Where can I find Jake E. Lee style pickguards?
---
In this world of you show me yours, I'll show you mine; I finally figured out how to post pictures of my whitey (with help from my wife).
It's an Alder Mexican Fender Strat body, a Mighty Mite compound radius (9 1/2-12") neck, DiMarzio SDS-1 slanted single coils, a Seymour Duncan JB humbucker, the standard strat trem has 5 springs and has been screwed all the way down (poor man's hardtail). I bought the Charvel decal on Ebay. A single volume knob and I need to replace the black toggle switch cap with a white one. Gotoh tunners and All Parts block saddles on the trem. The pick guard is from Pickguardian.com and it cost me about $75 but it's well worth it. I've been building this guitar in my head, and in practice, for about a year and a half. It ain't perfect but it is my favorite guitar. Hope you like it.
Dave
---
Whitey, Purpleburst and my '65 SG Junior
---
How much did that SG junior set you back? Were they ever made in left handed?
---
Bengal your purpleburst is absolutely beautiful. Makes me want to buy one of my own
---
Gonzo wrote:How much did that SG junior set you back? Were they ever made in left handed?
Left handed, I don't know. They probably were, but I haven't seen one. This one I found needed to be restored and had it's paint removed and a lot of battle scarrs. I paid 500GBP for her and put another 100 or so in on materials. all new Gibson hardware, Pigtail intonatable bridge and electronics. I researched and found the correct acrylic lacquer that Gibson used back in the day and did a complete refinish myself. Other examples of these fetch 1700-2500GBP. I would not been able to afford one of these at that price.
You might be able to find one that needs some attention and restore it for less. Here's some pics just after I buffed it out and set it up.
---
Return to All things Jake E Lee...
Who is online
Users browsing this forum: No registered users and 5 guests